CPUSetter Help
Process Limiting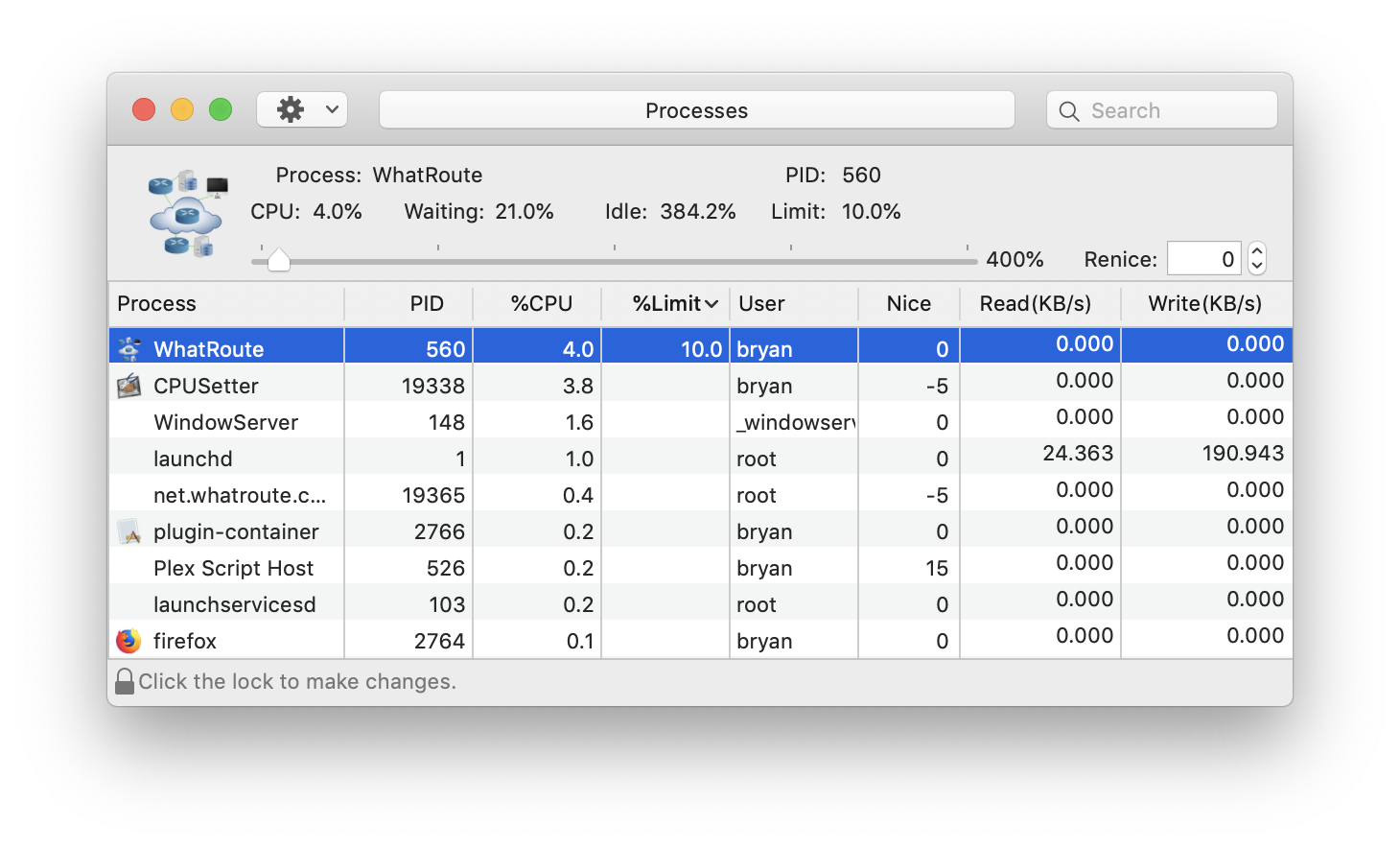 This window shows a table of processes running on your Mac. You can sort the table by any column. Simply click the column heading to select the sorted column. Click again to reverse the direction of the sort.
If you select a row on the table, the attributes of the selected process are shown in the top pane of the window.
You can right-click a row in the table to display a popup menu of actions you can perform on the associated process.
The table font can be modified with the Format/Font menu.
In the example shown, the application WhatRoute has been selected and various attributes of the process are shown.
CPU shows the current cpu utilization of WhatRoute. This value is also displayed in the process table.
Waiting After WhatRoute has used its current cpu allocation it will wait for the cpu to once again be available.
Idle shows the total amount of cpu resource not being used by any process.
Limit The current percentage of cpu that WhatRoute has been constrained to. This is adjusted with the slider control.
Controls
You can control any process (except for CPUSetter and its associated privileged helper) if it is being run under your own login credentials. Be careful. You might break something.
If you click the padlock icon at the bottom of the window, you will be prompted for an admin login and password. On successful entry you will be able to control any process. Again, be very careful.
Slider Move the slider to alter the amount of cpu resource granted to the selected process. Move it all the way to the right to remove all cpu constraints.
Renice macOS uses the 'nice' value of a process to determine the process scheduling priority. The action is reversed from its numeric value. Processes with lower values (i.e. more negative) have a higher priority than processes with a higher (more positive) 'nice' value.
---
Copyright © 2018-2022 B.R. Christianson (bryan@whatroute.net)